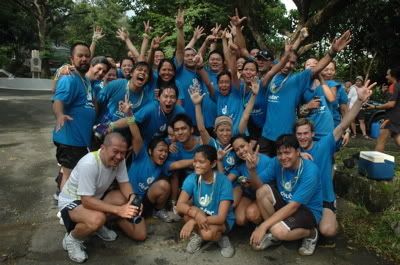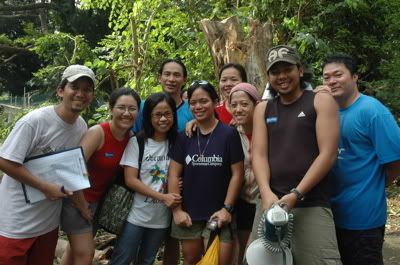 i went through the drama of AMCI's 15-kilometer qualifying run last sunday, although not as a participant but as an observer, watching a highly-charged film reel unfold before me as the seconds expired. memories of my own run flashed instantly back, and my predictions that the run would be just as much emotional as it is physical came true. there were tears, and a lot of heartbreak even as i announced the 6 best times (which included jenipay who ran faster than me by 5 minutes, a first in many years), and the 7 who would have to repeat the ordeal the following sunday. rob rose to my challenge, and clocked in the best time in the last 5 years when he finished in slightly over 1 hour and 21 minutes. i had assigned cecil, who had transformed from a laggard to one of the best runners last year, and who is more fit than i am despite being older by 15 years, to be the pacer. the goal is to be ahead of him, i said.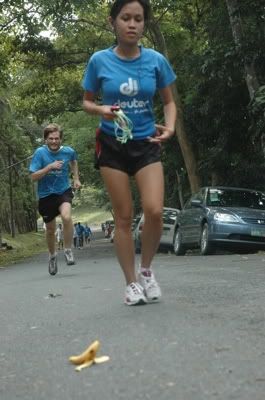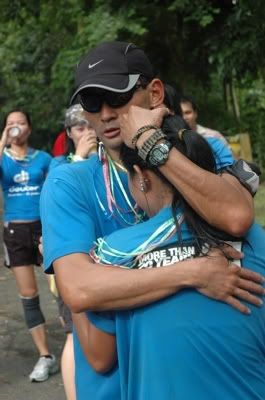 the 15k was also very emotional for me, personally. the previous day i had made very specific instructions for the trainees to sleep at the venue, following 2 other announcements i had made during the week. a handful of the trainees chose to defy my orders, on the ground that they feared the members would keep them awake the entire day, and would compromise their performance in the run. i had sent a very carefully worded email to the batch, expressing my sentiments over the act of insubordination, and while i am no longer angry, i am a lot disappointed. now i know how my parents feel when i consciously and deliberately disobey them. half of me wanted to berate those who defied my instructions, but being the reasonable person that i am, i didn't want to preempt anything, and steal the thunder of their excitement. but what happens afterwards is up to my committee and the board to decide.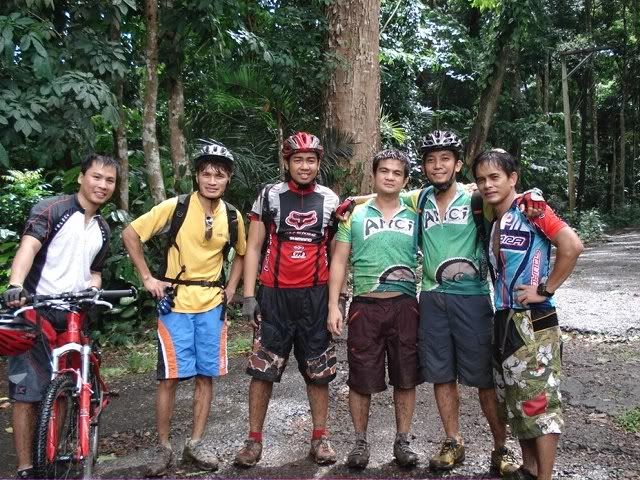 earlier that saturday morning, i had signed up for a ride up to the mud springs of makiling. i don't have a bike of my own, but kuya mar lent me his, and i used the helmet that roy had given me. janice loaned me a pair of gloves, and i wore my rarely-used NB offroad shoes and my orange TNF gulper as hydration pack, which i hadn't used since last year's sanmig enduro. this is only the third time that i would actually be joining a mountain bike ride of this level of intensity, and the first 2 of them happened without conscious intention: in
santa rosa
and then in
batanes
. we arrived in los baños at 7:30am and we started our ride at around 8. i finally saw malvin again after a long time. he still had vestiges of his accident in camiguin, and the muscles and nerves on his left brow had been neutered by stitches. he also had scars on his arms, and still a few fresh wounds. i told him: bad things happen to bad people.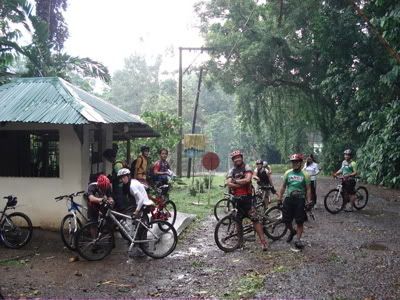 and then we went for the ride. all along the ride, particularly on the uphill stretches, i received coaching from everyone about gears. i'm a pretty competent biker -- my legs are pretty strong, but i don't really know how to operate the gears that much. i had gone up the mud springs a few times, but not on a pair of wheels. so it was with much pretension that i tried my best to keep with the rest on our way up. i got really dizzy when we reached the gate, and many times, i fell off my bike because the road was pretty bad: rough all the way, and the constant showers made the trail really slippery.
at 10am, we reached the bukohan. sir manny said we could take the bikes to the mud springs, but i doubted that a lot since the trail was pretty difficult. as i predicted, we carried the bikes 95% of the time. we got to the mud springs: the water was gray, like a layer of filth in a dingy canal, which boiled and bubbled, sending up clouds. even from 10 meters away, we could sense the heat. and the smell of sulfur was unmistakable. from the mud springs, we biked a bit more up going to the trail in peak 2. 20 meters from the end of the trail, i felt a cramp coming on. i instantly went down my bike. then we decided to return. on the downhill stretch, it was fine, but leading to the bukohan, i had to cycle a few rounds to keep my speed, and a pair of debilitating cramps attacked my hamstrings. i kept screaming, oh fuck! and people thought it may just have been my predilection for histrionics. but it really was the most painful cramp that i had ever experienced ever. i went off the bike, and had to walk with my bottom close to the ground because my muscles kept contracting. i couldn't stretch my legs because neither of my legs would keep straight. finally roy suggested that i lie flat on the table, and he pushed both my legs down. it instantly relieved the cramps, and i had to rest for a few more moments before i could actually stand up and ride my bike.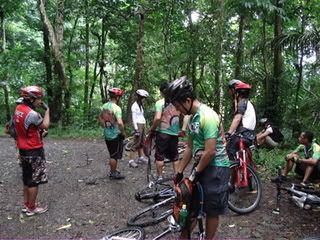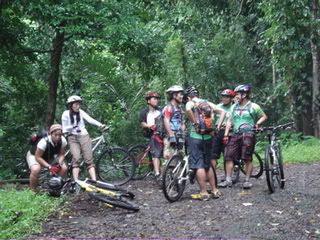 on the way down, the terrain punished all of us. i lost my balance several times, and at one point, i knew i was going to fall. so i intentionally let myself be thrown to the side, on a bed of grass, instead of on the trail, which was a mishmash of asphalt, mud and exposed stones. before i could even recover, i saw janice fall on her side. her cleats prevented her from using her foot to cushion the fall, and her entire body made contact with the trail and her helmet smashed on a rock with a sound that shook me deep inside. i witnessed this in vivid detail, and i saw how her face turned into a scowl and how her eyes shut. i immediately jumped up, ran to her, and checked to see if there was any blood coming from her head. "oh my god, oh my god!" i kept shouting, and after 5 seconds, she got up. it was the scare of my life! i feared for janice, and it really did look like a bad fall. after making sure she was alright, we continued the ride. word was she fell a few more times, losing a lot of her confidence, and because of the ringing sound in her head. helmets really do save lives, and i felt weak knowing that at the first stretch of the downhill ride, i had forgotten to buckle the helmet.
speaking of keeping one's self alive, i went to the medical city to visit my brother who had a major surgery last monday to remove kidney stones. the medical city in ortigas is really nice, and it doesn't look like a place to die, unlike some hospitals elsewhere in the city. nevertheless, the putrid smell of chemicals was obvious. "it smells like death", i remarked when the elevator doors opened. i didn't even know that my brother had kidney stones until it was already time to operate on him. apparently, this has been a cause of concern for some time now, although he never complained of any pain. he had been taking medication, but a random, unplanned check revealed that the kidney stone had grown to a size where drugs or even a shockwave therapy wouldn't work. there was even fear that the entire kidney might have to be removed. when i visited him, he showed me the stone that was inside him. it was red, finely coarse, and had the texture and the appearance of a sea coral, with branches growing out of it. it was bigger than a 5 peso coin, as shown by the picture below. i was told that he has a wound about 10 inches wide. his left kidney had to be sliced open like a fish to take out the stone, which is really calcium, and sewn back together. my brother's right hand is swollen from all the tubes that had been inserted. anyway, he's been discharged now and it looks like he'll be functioning properly within the next few days. God is so good. He really is.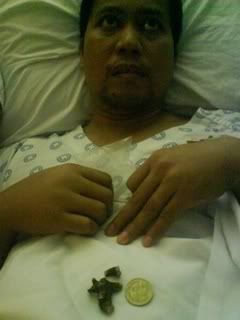 bike ride photos courtesy of malvin agra